Acoustics and acoustic services
In addition to improving the quality of housing in form of interior services, studio InaAs also maximized by the conceptual solution of acoustics in the interior. Studio cooperates with accredited experts. Studio provides consulting and advisory services, as well as the possibility of proposing improvements to acoustic conditions in the interior. InaAs brings acoustic solutions to interiors.
Russian Cultural Institute in Vienna , AT
The investor´s request in this project was to solve the acoustic discomfort of the interior while maintaining the interior design and creating of soundproof cabine. Once acoustic study has been prepared by renowned acoustic engineers, we picked a lamella ceiling and cladding for wall next to soundproof cabine.
Acoustic solutions fore home audio systems
Studio InaAs also has a lot of experiences with acoustic solutions in residential spaces. After recognizing client´s idea and requirements, we will propose a suitable solution, in therms of design also. The result is a modern interior where you won´t  hesitate to play your favourite movie or consert.
Conference hall, Bratislava,SVK
Reconstruction proyect of conference hall required a quality solution, primarily taking into account acoustics and the selection of apropriate materials. The acoustic design includes  acoustic ceiling, acoustic wall panels and design of soundproof cabin, all manufactured of light wood with integrated lighting. The result is modern interior space, that meets all acoustic requirements.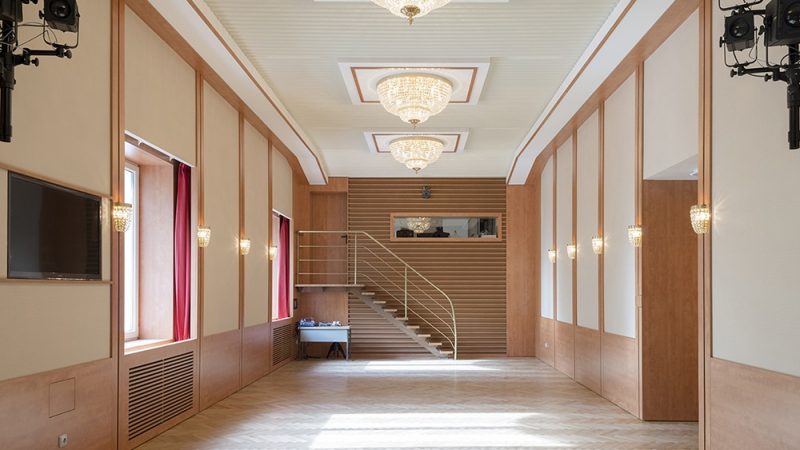 Reconstruction of the theatre hall, CR
The task was a complete reconstruction of the interior of a multifunctional cultural hall in Czech republic. To obtain acoustic properties there are several types of acoustic wall tiles used. Some of panels contain lighting and sound system built in. Ceiling panels were designed with built in light as well. Final design of multifuntional hall, primary cinema was complemented with seats in blue colour.